Doris's current performance schedule is now available on the schedule page.
Doris's and Side by Side's CDs are now available at the WFMA Store.
June 16, 2021: Doris did her second concert via Zoom for the 1st Unitarian Church of Honolulu:
March 23, 2021: Doris did a concert via Zoom for the 1st Unitarian Church of Honolulu:
February 1, 2017: Doris appeared live on KPHI Radio in Hawaii. Watch the interview here:
---
Note from Doris:
Dear Friends!
Time to update you on my plans! As of March 3, I finished the mainland part of my dental work. As I heal, the final and uncomplicated stage will be finished in Hawai'i in the late summer. Thanks to Nabeel Khan, D.D.S. (Burke Dental) , Amir Naimi, D.D.S and his delightful assistant, Kathy (Northern VA Oral, Maxillofacial & Implant Surgery ( both in Burke VA) and their caring staff. Plans move ahead! I am readying my apartment for sale with my realtor and longtime friend, Marty Williams and my friend Alberto has finished improvements (anyone interested in a studio apartment a block from Van Ness Metro stop and near shopping – a very desirable area of DC - just let me know) and downsizing like crazy. It goes on the market in April. I end my day job of 10 years at the end of April. Meantime, I am creating, with the help of master audio engineer and good friend/singer/songwriter, Collin Warren, a special CD of songs from me and Side by Side that are not on our other CDs. I hope to make it a Kickstarter campaign. Stay tuned for info about that and I am hoping some of you will help me out. I really do want to follow my dream and move to Hawai'i this spring! I will tease you with a few of the songs likely to go on the CD: "Field Behind the Plow", "Leaving, On A Jet Plane", "Cactus Tree", "Reason for it All", just for starters. : - )
---
The "Aloha Concert" (sold out weeks in advance!) was spectacular! The audience was on fire and so were we! We had our amazing band – Paul Prestopino, Ron Greenstein and Bob Hefferan – behind us and it was just wonderful. Joe and the JCC staff were helpful, professional and so great. We cannot thank them enough for all they did. And of course a big thank you to Chuck and other WFMA board members (who were told on a "need to know basis") who planned a surprise for us that was outstanding and never to be forgotten. Hardly anyone knew that though Chad and Mike had both told me months before when I extended an invitation to them for the concert that they could not come (really GOOD excuses and I never questioned it!) There they were bounding out across the stage after greeting us on a video in the concert hall. What a delight to hear the three songs they rewrote (including Tom Paxton's "Can't Help But Wonder Where I'm Bound") for me and for Sean. (Tom was sitting behind the curtain and grinning at us the whole time the Trio sang that song of his!) And other written and/or video greetings from Schooner Fare, Steve and Cindy, Peter, Noel, Modern Man, Dave Rowe, Mack Bailey, George Grove, Brothers Four, The Highwaymen – all surprises for US! The best was the out-of-body experience of me waving goodbye to Chad and Mike on the screen and having them seem to leap out of the video and onto the stage and into my arms! Wow! I am still flying every time I think of this. Celebrating our last gig after 31 years was a bittersweet and wonderful night for sure. Thanks to those of you who attended to share in such a triumphant night!

You can view the concert program here: Aloha Concert Program. It truly gives you a great feel for the excitement and joy of the evening.

---
Then on October 4, I gave an address at the Northern Virginia Ethical Society. (I have been a member since the 1980s and was until this summer the Music Director for our chorus, NoVESingers.) My talk was "My Music Journey: from Que Sera, Sera to Friends with You" as I chronicled my first song at four or five to the finale song at the Aloha Concert. The talk is a walk down memory lane with lots of folks who played set me on this path that led to me to this point. I also performed. All of that is available for you to listen here:
---
We hope you were at this wonderful concert to honor our friend and mentor because it was pretty terrific!
Saturday, September 27 – "Remembering Dick Cerri – A Celebration in Song" – College Park MD - Clarice Smith Performing Arts Center, with many of Dick's favorite performers: Tom Paxton, Noel Paul Stookey, Peter Yarrow, Carolyn Hester (with Amy & Karla), Schooner Fare, Christine Lavin, Steve Gillette & Cindy Mangsen, the Squid Jiggers, Paul Prestopino, Bob Hefferan, Ron Greenstein, Marshal Rosenberg, Anne Hills, Bill Danoff, Donal Leace, Mack Bailey and surprise guests - Chad Mitchell and Jonathan Edwards! We celebrated Joe Frazier too.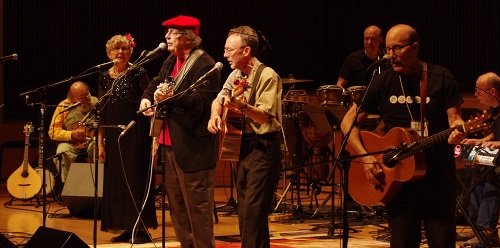 ---
Wednesday, May 14, 2014 was a very special evening for Side by Side (Doris Justis & Sean McGhee). We celebrated the 30th Anniversary of our first performance together (May 14, 1984) with a wonderful concert at the Bethesda Blues and Jazz Supper Club. This is a new venue in the historic Bethesda Theater in the heart of Bethesda, MD. We were joined on stage by special guest accompanists Paul Prestopino and Ron Greenstein (of the Chad Mitchell Trio and Peter, Paul & Mary). Also helping out were Scott Morgan (a frequent performer with Doris) Jay Keating and Kelly Diamond (frequent performers with Sean in Know1Else).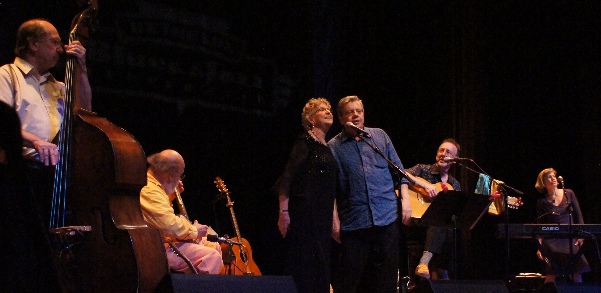 ---
On MONDAY, MAY 12 we were on Barbara Harrison's LIVE TV program on Channel 4 Washington! You can watch the video right here:
---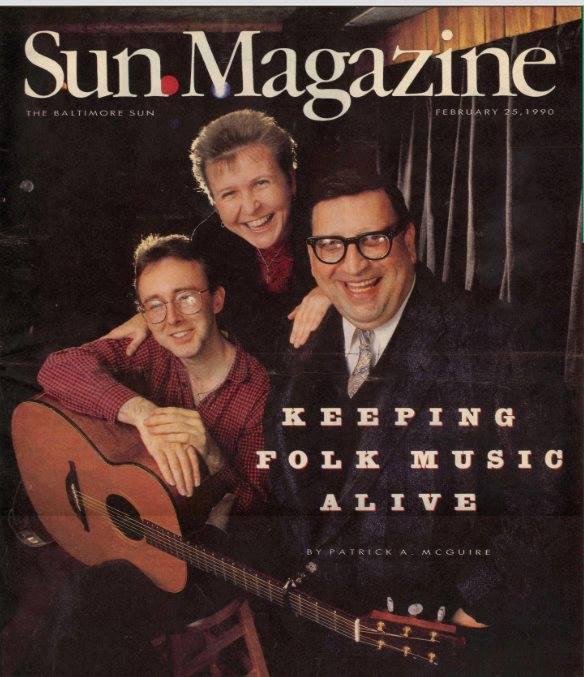 We are so sorry to tell you – our friends, fans and folk family - that our beloved Dick Cerri has passed away. Though he has been in declining health, and most of us were surprised by his resolve, this time it was congested heart failure. Chuck and Yvonne Morse and my Dave and I were able to be with him on Wednesday evening but it was clear he was not in good condition.

Most of us performers at time to time referred to him as "Mr. Folk Music" and I believe it was Schooner Fare who first gave Dick that title. He loved being called that. And many of you know that personally I "grew up" with his Music Americana radio program in junior high and after college and becoming a so-called adult, became his production manager, showcase coordinator and a host of other titles with him over the years. And as with many of you, I still miss my Sunday evenings of Music Americana. I did cherish those times. Now he is at the "Rainbow Bridge" with John Denver, other great performers, his brother Bill, his kitty cats Werner and Erhardt and so many other special people who have gone before him. I have Dick to thank for my opportunities with music all these years and his support of our duo which he loved. And of course it was at one of his first showcases at the Birchmere, that Sean and I met and some 29 years later are still performing together.

His daughter, Debbie is not planning a service. She has requested that in the future we have a celebration "music party and concert" to honor him. When we have details, we will let everyone know. I will miss him terribly...

Doris and Scott are sad to report that the wonderful Two Pears Café in Kensington, MD had closed. If you have any suggestions for venues for us, please contact Doris.
MAINE! Side by Side participated in the Annual Tribute to Tom Rowe, on Satuday, May 11, 2013 (Doris's birthday) at the First Universalist Church in Auburn, ME. Side by Side joined Schooner Fare, Denny Breau, Dave Rowe's Squid Jiggers and others.


Doris is Music Director for Northern Virginia Ethical Society (NOVES). Please contact her directly if you would like to join a fun chorus. ALL levels of ability welcome! You do not need to be a member of NOVES. (dorisjustis@yahoo.com) Green Hedges School, 415 Windover Ave, NW, Vienna VA (just off Nutley St) www.noves.org 703-437-3161 We are currently looking for new members. How about you?


A personal message to our fans, friends and family: Many of you know that Hebe (Hebron) Adams has been managing my mailing list since before there was a Side by Side. The Adams family and I go way back to my first months as Dick Cerri's Production Manager for his radio program, Music Americana. This spring, Hebe had a medical emergency. He has moved to Maine to be near his daughter, Jenny and is doing well. Side by Side did a special surprise mini-concert for him before he moved to South Paris. I really miss Hebe as we had monthly luncheons and we shared a lot of ups and downs in our lives over many years. Thanks, Hebe, Nancy, Jenny and Heather for all the good times and sad times we have shared together. We are looking forward to seeing Hebe when we gig in Maine in May! ( ** see below )

Visit the new Side by Side Facebook Page!

Listen to Doris's much-requested song about dearly-departed pets: Rainbow Bridge (Click to listen)

Highlights
On March 22, Side by Side opened for The Brothers Four at the Cedar Lane Unitarian Universalist Church, in Bethesda, MD. The WFMA sponsored show was nearly sold out and the audience enjoyed the music of both Side by Side and the Brothers Four.

DORIS celebrates the one year anniversary of her "dream come true trip of a lifetime" tour of Ireland with members of the legendary Chad Mitchell Trio in March, 2012.
Unfortunately Chad Mitchell Trio member, Joe Frazier, was not able to go to on the tour. He needed to stay close to home to work on his health. Certainly it was extremely disappointing for him and for all his fans and fellow globetrotters. Please keep Joe in your thoughts and prayers. The good news is that Chad Mitchell Trio members Mike Kobluk, Chad Mitchell, Paul Prestopino, Bob Hefferan and Ron Greenstein were on the tour. The other good news is that as a long time Trio friend and fan and "promoter", Doris was invited to add her musical talents and join the tour!

Listen to Doris's much-requested song about dearly-departed pets: Rainbow Bridge (Click to listen)

Here is a look back at 2009, our 25th Anniversary Year:

ANNOUNCEMENTS! SIDE BY SIDE started to celebrate their "25th Anniversary Year" on SUNDAY, January 4, 2009 at the Kennedy Center and the Millennium Stage! It is in the Center's archive and will be available forever! (or close to it!). You can watch it here. It was the most fabulous evening! Everyone on staff from Diana and Garth to Dave and Matt on site with a great video crew, made everything seamless and terrific. Friends, fans and family came in person or "tuned in" to the LIVE broadcast on the web that evening. Thanks for the great turnout from my Aerobic Dancing class (of over 20 years!), members of the Northern Virginia Ethical Society (where I am Music Director) and members of the Washington Ethical Society (where I was Music Director for seven years). Doris is member of all. And thanks to Betty-Chia & Hank for the party afterward at their lovely home in NW DC. And to Melissa for the wonderful cake with all our CDs on top in fondant! People from all over the country have been calling and emailing that they have seen the concert. We are so proud, and thank goodness it is worthy of your viewing! (Songs not previously recorded: Bridge Over Troubled Water, Fly Away, Afternoon Delight, She Loves You…) Check out our previous appearance (9/11/99): You can watch it here. This was great fun and broadcast worldwide, live at that time AND is still available!
The World Folk Music Association Celebrated Side by Side along with The Chad Mitchell Trio with a CONCERT: The Chad Mitchell Trio has been together for 50 years and Doris Justis and Sean MGhee have been performing together as Side by Side for 25! So, along with surprise guest Tom Paxton, they celebrated these milestones March 31, 2009 at the Cedar Lane Unitarian Universalist Church in Bethesda, MD. See photo below: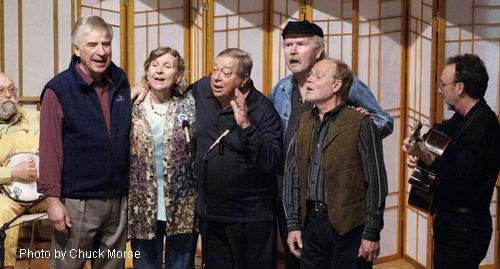 Paul Prestopino, Mike Kobluk, Doris, Joe Frazier, Tom Paxton, Chad Mitchell, Sean
Tuesday, March 31
– Historical event!
World Folk Music Association presented The Chad Mitchell Trio's 50th Anniversary with Side by Side! Chad Mitchell, Mike Kobluk, Joe Frazier, Paul Prestopino, Bob Hefferan AND surprise guest, Tom Paxton at Cedar Lane Unitarian Church in Bethesda MD. What a great night of music and our friend Karen made us all a guitar cake. Yummy! (See photo above)
Saturday, April 25
Montgomery College Planetarium – Laser and Star Show Concert! This was great! Lasers and lights coordinated with OUR music!
Monday, May 11 - My surprise birthday party was fabulous! Thanks to my David who put it all together and to Eli who offered her wonderful Kensington Row Book Shop for the venue! Food, fun, music (with Sean, Dennis, Dave Shepp, Mark Ashby, Sid & Carol Dunn) and great location!
Thursday, May 21 - Side by Side had a triumphant 25th Anniversary celebration at BlackRock Center for the Arts in Germantown MD on Thursday, May 21! It was sold out (yeah!). Many old and new friends and fans and family were there! We reunited my "Who to Turn to" Band – Dennis Diamond, Kyd Brenner & Greg Shupe – and Jay Keating & Sean's Keating Five. What a great time!
Saturday, July 18 – Town of Kensington MD, outside, in front of Prevention of Blindness, across from Farmer's Market at train station, 3716 Howard Ave. My annual appearance for Kensington and Sean's second! Nice sitting area and you get to see and hear trains!
Saturday, August 1 – Benefit for Garrett Park Elementary School - Jay Keating, others …
7:00 – 10:00 pm Garrett Park Town Hall, a lovely location for acoustic music.
Tuesday, September 15 – Side by Side
Folk Club of Reston/Herndon - Celebrating their 24th year and we were among their first performers!)
In case you missed these, you can see Side by Side at the Kennedy Center anytime!
♫ ♫ And In November 2007, Side by Side celebrated John Denver and his music at a special concert at Gilman School in Baltimore MD. Several students participated by making slide presentations to go along with the songs we sang – Tradewinds, Wild Montana Skies, This Old Guitar (beautiful solo by Sean) – to name a few. It turned out wonderfully and we are pleased!
Watch the video here.
PREVIOUS NEWS:
DORIS & DICK CERRI! - Monday, October 27, 7:00 to 9:00 pm
Dick Cerri and I were featured on a radio program in Pennsylvania at www.wdiy.org (it is streaming on web, click on LISTEN) with DJ, Steve Aaronson, regarding the wonderful tribute concert to Tom Paxton held in Virginia by the WFMA on May 3. The three of us go down "memory lane" and we chat about WFMA, Dick's "Music Americana", folkies who are no longer with us and other topics. This station features live folk music programming five nights a week and it is on the web!

VACATION NEWS: Annual trip to Lake George NY to visit my Burnett family with Mary Susan and her kids and Sarah and her kids! Fun in sun, boat rides, water skiing (not me!), ice cream, 51/2 hr. tour of lake by boat!

MORE VACATION NEWS! David and I had a grand vacation on the West Coast, my first visit! David made my lifelong dream come true at "the place where dreams come true!" - Disneyland! It was all I hoped it would be. I was a kid again whirling around in teacups, traveling through the jungle and the rainforest, viewing Nemo from a submarine, watching birds singing in the Tiki Room (one of Walt's original attractions featuring his animatronics inventions), soaring through the night with Peter Pan, dodging bullets from pirates in the Caribbean, choo-chooing around the park in the open air train, dining at lunch in the evening setting of the Blue Bayou Restaurant, laughing at the antics of Alice and her Wonderland friends, boating through the miniatures in Storyland and on and on. It was fabulous! We also saw SeaWorld, the San Diego Zoo (where I took the tram ride over and over, I loved it so!), Universal Studios (goodbye King Kong!) and toured the Stars' homes by bus! Wow! Can't wait to go back…

NOTES:

Doris is Music Director for Northern Virginia Ethical Society (NOVES). Please contact her directly if you would like to join a fun chorus. ALL levels of ability welcome! You do not need to be a member of NOVES. (dorisjustis@yahoo.com) Green Hedges School, 415 Windover Ave, NW, Vienna VA (just off Nutley St) www.noves.org 703-437-3161 September 21 is our first rehearsal.

In November, SIDE BY SIDE celebrated John Denver and his music at a special concert at Gilman School in Baltimore MD. Several students participated by making slide presentations to go along with the songs we sang – Tradewinds, Wild Montana Skies, This Old Guitar (beautiful solo by Sean) – to name a few. It turned out wonderfully and we are pleased! You can view this at www.gilmannews.com/videos/assemblyjohndenver1.php

Also, check SIDE BY SIDE's concert: www.kennedy-center.org , click Millennium Stage, click on Past Performances, Side by Side, September 11, 1999. This was great fun and broadcast worldwide and live at that time! Soon we will appear again at Millennium Stage! Watch for details!

I perform for weddings, receptions, memorial services and house concerts. Please use contacts above if interested in booking.
OLDER POSTINGS:
My summer was lots of fun and included a trip to Lake George NY to stay with the Burnetts, which I do each summer. This time it was with Mary Susan and her two girls, Sydney Grace and Annelise. Her sister, Sarah, could not come as she was soon to deliver! (Welcome, Theresa Lucille Begg!) And Barbara (the mom) had to stay in Virginia to start teaching earlier than usual. David flew up and joined us for the end of the week. We had a blast. The three days it was "just us girls" was wonderful. We have not really been able to do that before.

Sean and Janet just got back from their vacation on the west coast. They celebrate their anniversary in October!

WFMA note: On Saturday, May 3 we will celebrate our dear friend, Tom Paxton. Confirmed for May 3 – Tom, of course, and the Chad Mitchell Trio!